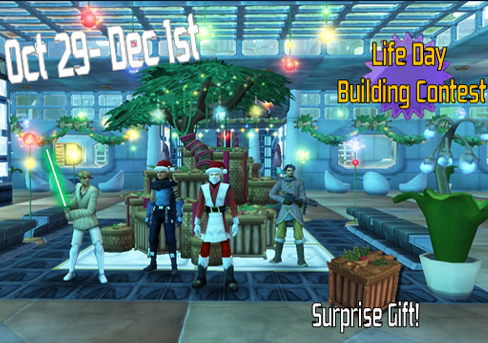 Through October 29th through December 1st players will have a chance to build the best Lot. Then on December 2nd Quailfire pirate361 and the judges will House Inspect the Entries. Then on January 1st at Emissary Zat 's Festive Ice Templethe finalist will be determined. The winner will recive a special suprise pack provided by the judges. To enter comment on this page and put the name of your house and the name of the owner of the house.    
How Can I help?
You can help by providing items such as House Furniture and other items for the Prize.     You may also tell others of the event. 
Times
More coming soon.
Ad blocker interference detected!
Wikia is a free-to-use site that makes money from advertising. We have a modified experience for viewers using ad blockers

Wikia is not accessible if you've made further modifications. Remove the custom ad blocker rule(s) and the page will load as expected.